Welcome to the website of the Australian Embassy in France
This site has been created to provide a guide to help you find information about Australia. Whether you are interested in doing business with or investing in Australia, going on holiday, studying or just learning more about our country, we hope you find this site of use. This website is not intended to be exhaustive, rather it provides useful links to enable web visitors to obtain further information on areas of interest.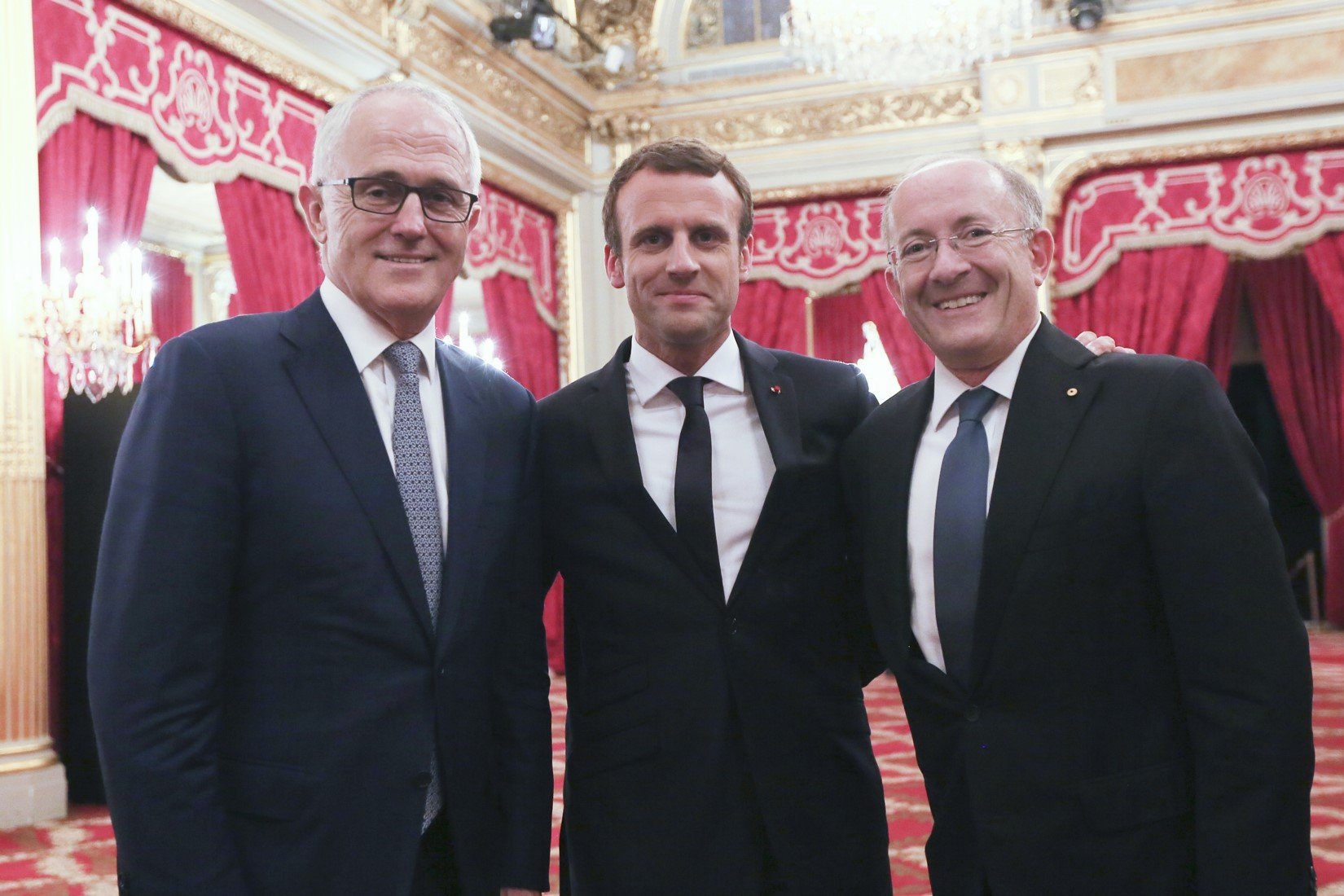 Prime Minister Malcolm Turnbull with French President Emmanuel Macron and Australian Ambassador to France Stephen Brady.
Photo: Elysée
The Australian Marriage Law Postal Survey
To ensure everyone who is eligible receives a survey form, the Australian Bureau of Statistics (ABS) urges Australians to enrol or check their details by visiting the AEC website. The roll closes for enrolment on 24 August. Update your electoral roll details at www.aec.gov.au to participate in the Australian Marriage Law Postal Survey.
Important points
The Australian Marriage Law Postal Survey information line is 1800 572 113. If you are calling from overseas and cannot access this line, please dial +61-2-6252 5262 . The line is open seven days a week from 8am to 8pm (local time).
This survey is voluntary and there are no penalties for not participating
Responses are kept secret. ABS will keep the identity of all respondents separate from their survey responses at all times. The barcode on the survey form will be used for "mark-in" purposes only and is a single-use, anonymous code. No person who sees or has any access to any completed forms will know both the name of eligible Australians and the related single-use code
The ABS will destroy all information collected after the survey results are published
Australians who are enrolled on the Electoral Roll and eligible to participate in a Federal Election, will be included in the Survey. People who become eligible for enrolment after August 24, for example those who turn 18 after 24 August, will not be included in the survey
Silent Electors will be sent their survey forms by the AEC. The ABS will, at no time, who the address of silent electors.
Key dates
Thursday, 24 August – electoral roll closes for new enrolments or changes to enrolments (midnight local time)
From Tuesday, 12 September – commencement of mailing of forms and collection period with a strong message to "have your say, complete and return it today"
Wednesday, 11 October – requests for replacement material closes (6pm local time)
Friday, 27 October – the date by which the ABS is strongly encouraging all eligible Australians to ensure their completed forms are returned
Tuesday, 7 November – no responses received after this date will be processed
Wednesday, 15 November – statistics and integrity report released
Special strategies to support participation
PLEASE NOTE: Arrangements will be put in place to allow Australians living in remote areas, those living overseas, those located in the Antarctic, Government personnel on overseas deployment, those unable to self-complete a paper form, or those without access to mail to have an opportunity to participate in the survey. These are currently being determined with details to be published on the ABS website by 22 August. We [the ABS] thank you for your patience as we finalise these details.
Where to find further information
Further details on the process and overview of the survey can be found on the ABS website: http://www.abs.gov.au/websitedbs/D3310114.nsf/home/AMLPS+-+Process . This information will be updated as needed. It can also be accessed through the ABS website http://www.abs.gov.au/websitedbs/D3310114.nsf/home/Home , or this ABS media release http://www.abs.gov.au/websitedbs/d3310114.nsf/home/ABS+Media+Statements+-+Australian+Marriage+Law+Postal+Survey .
EDIT:
We would encourage you to follow this link to the ABS website, which provides information for Australians overseas who wish to participate in the Marriage Act survey: http://www.abs.gov.au/websitedbs/D3310114.nsf/home/AMLPS+-+participation
If you are overseas throughout the collection period (25 September – 20 October), you can request a Secure Access Code that will enable you to submit a paperless response. You can obtain a Secure Access Code by calling the ABS Information Line – +61-2-6252 5262 – or by accessing the ABS website between 25 September – 20 October. Once you obtain your Code, you can submit your response in one of several ways: via an automated telephony services; a secure online form, or; a call to the ABS call centre.
Further information can be found on the ABS website at: www.abs.gov.au
Follow us on Facebook
You can access the Embassy's Facebook page, "L'Australie en France", at http://www.facebook.com/AustralieEnFrance to receive updates on Australia-related news and events in France.