Australian Federal Election 2019
The date for the 2019 Australian federal election has not yet been announced.
The Australian Embassy in Paris will be offering in person voting for the 2019 Australian federal election. Members of the public must provide photo ID in order to gain access to the Embassy. ID is not required to vote.
For information on enrolling and voting while overseas, please visit the Australian Electoral Commission (AEC) website at www.aec.gov.au/overseas.
If you wish to vote in the federal election you must be enrolled. To enrol, check or update your enrolment details visit www.aec.gov.au.
For updates on the election please check the AEC's website and follow the AEC's Twitter account.
What we can and cannot do
Australians requiring advice or assistance from the consular section may visit the Embassy with an appointment during the following hours: 09:00 to 12:00 and 14:00 to 16:00 Monday to Friday, except during public holidays.
In case of an emergency after hours, please contact the 24-hour Consular Emergency Centre on +61 (0) 2 6261 3305
Consular Privacy Collection Statement
Please note that there is no longer an immigration section at the Embassy in Paris.
For any visas or immigration questions please visit www.homeaffairs.gov.au or telephone +61 2 6196 0196
Contact us
Australian Embassy
4 rue Jean Rey, 75724 Paris Cedex 15
Metro Line 6 Station Bir-Hakeim
RER C Station Champ de Mars-Tour Eiffel
Tel: +33 (0) 1 40 59 33 00
E-mail : Consular.Paris@dfat.gov.au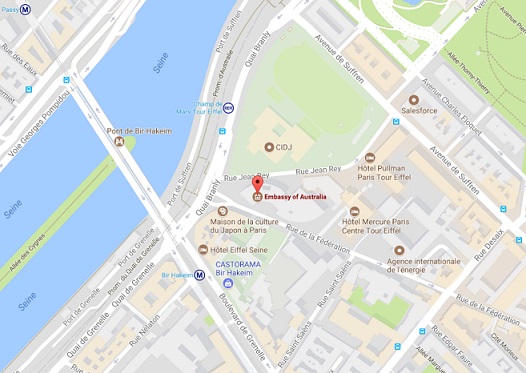 Appointment booking
Appointments for notarial services can be booked here. Please ensure you select the Time zone: (GMT +02:00 Central European Time - Paris), when making a booking.
Privacy Act
Personal Information provided to the Department of Foreign Affairs and Trade (DFAT) is protected by law, including the Privacy Act 1988. We may collect, use and disclose your personal information, including to overseas recipients where we reasonably believe it is necessary, to provide you with consular assistance. Important information about the privacy of your personal information is contained in our Privacy Collection Statement, which you should read and understand. Copies of the Statement are available here or by requesting a copy from the Department.