The Australian Government is now operating in accordance with the Caretaker Conventions pending the outcome of the 2022 federal election.
Welcome to the website of the Australian Embassy in France
Follow us on Facebook to receive updates on Australia-related news and events in France.
Coronavirus (COVID-19) Notice

Coming to the Embassy
For those visiting the free, public exhibitions at the Embassy:
Please bring a valid form of ID for security purposes.
Practice good hygene such has hand sanitisation. Consider wearing a mask and physical distancing.
If feeling unwell or exhibiting any symptoms of Covid-19, you may not be permitted to enter the building.
For those attending an appointment at the Embassy:
Arrive at the time of your appointment – you may not be permitted to enter the building before your scheduled time.
Only the person(s) renewing their passport or requesting a notarial service will be allowed to enter.
Avoid bringing children (except your child over the age of 16 years old applying for a passport ) or other family members or friends – they may not be permitted to enter the building.
Mask wearing is not mandatory, but consider wearing a mask during your visit at the Embassy. Hand sanitiser is available on-site.
Note that the Embassy may cease public appointments at short notice in light of French Authorities adjusting social distances measures or restricting movements.
Note that the Embassy may need to reschedule your appointment at short notice to accommodate other urgent requests or due to staff availability.
If feeling unwell or exhibiting any symptoms of Covid-19, you may not be permitted to enter the building and the Embassy will need to reschedule your appointment.
Travelling to Australia
For advice regarding:
Australia's travel and visa requirements, please visit the Home Affairs website
Australian entry and quarantine arrangements, please visit here
Guidance on international vaccine certificates, please visit here
Travelling to France
For advice on travel to France, please visit here
Australian Federal Election
The next federal election will be held on 21 May 2022. If you are still in Australia, you can pre-poll vote from 9 May 2022.
If you plan to be overseas at the time of the election, please check your enrolment and request a postal vote as soon as possible from the AEC.
Australians in France can vote via postal vote, which can either be posted to the AEC directly, or, mailed or dropped off to the Embassy in Paris.
To mail in your postal vote, please address your vote to:
Ambassade d'Australie
4 rue Jean Rey
75724 Paris
Cedex 15
You can also drop off your postal vote in person at the embassy, Monday-Friday, 9am - 4pm.
Postal votes must be returned as quickly as possible to ensure they are received by the AEC in time to be counted.
In-person voting will be available at our Embassy from Tuesday 10 May to Friday 20 May, between 9am - 4pm, excluding weekends.
Appointments are not required.
Before you come in, please verify your enrolement on the AEC website.
FAQs
What is the time frame for enrolling to vote?
Enrolment closes at 8pm on 18 April 2022, one week after the election is called.
How early before the election are postal votes be sent out?
The Australian Electoral Commission will start sending postal votes immediately after the declaration of nominations. Postal votes are expected to be sent from 26 April 2022.
When do requests for postal votes close?
Requests for postal votes will close on 18 May 2022. The Australian Electoral Commission recommends you apply for a postal vote as soon as possible to ensure there is enough time for it to be posted to you and returned to the Australian Electoral Commission by 3 June 2022.
OSEZ L'AUSTRALIE
Australia now is a celebration of events bringing France and Australia together — in business, research, technology, education, tourism, sport and the arts. This program gives unique opportunities for international market development and promotes Australia's creative excellence, cultural diversity, and open economy.
Discover our program : Australia now France 2021–22 (celebrateaustralianow.com)
​
This site has been created to provide a guide to help you find information about Australia. Whether you are interested in doing business with or investing in Australia, going on holiday, studying or just learning more about our country, we hope you find this site of use. This website is not intended to be exhaustive, rather it provides useful links to enable web visitors to obtain further information on areas of interest.
Current exhibitions
Piinpi: Contemporary Australian Indigenous Fashion
31 January 2022 - 22 April 2022
Created by the Bendigo Art Gallery, the exhibition Piinpi: Contemporary Australian Indigenous Fashion will shine a light on Australia's leading First Nations creatives, and a design movement that is fast becoming a national fashion phenomenon.
Featuring the work of Indigenous artists and designers from the urban centres to remote communities, Piinpi will highlight the power and diversity of the rapidly growing Indigenous fashion and textile industry.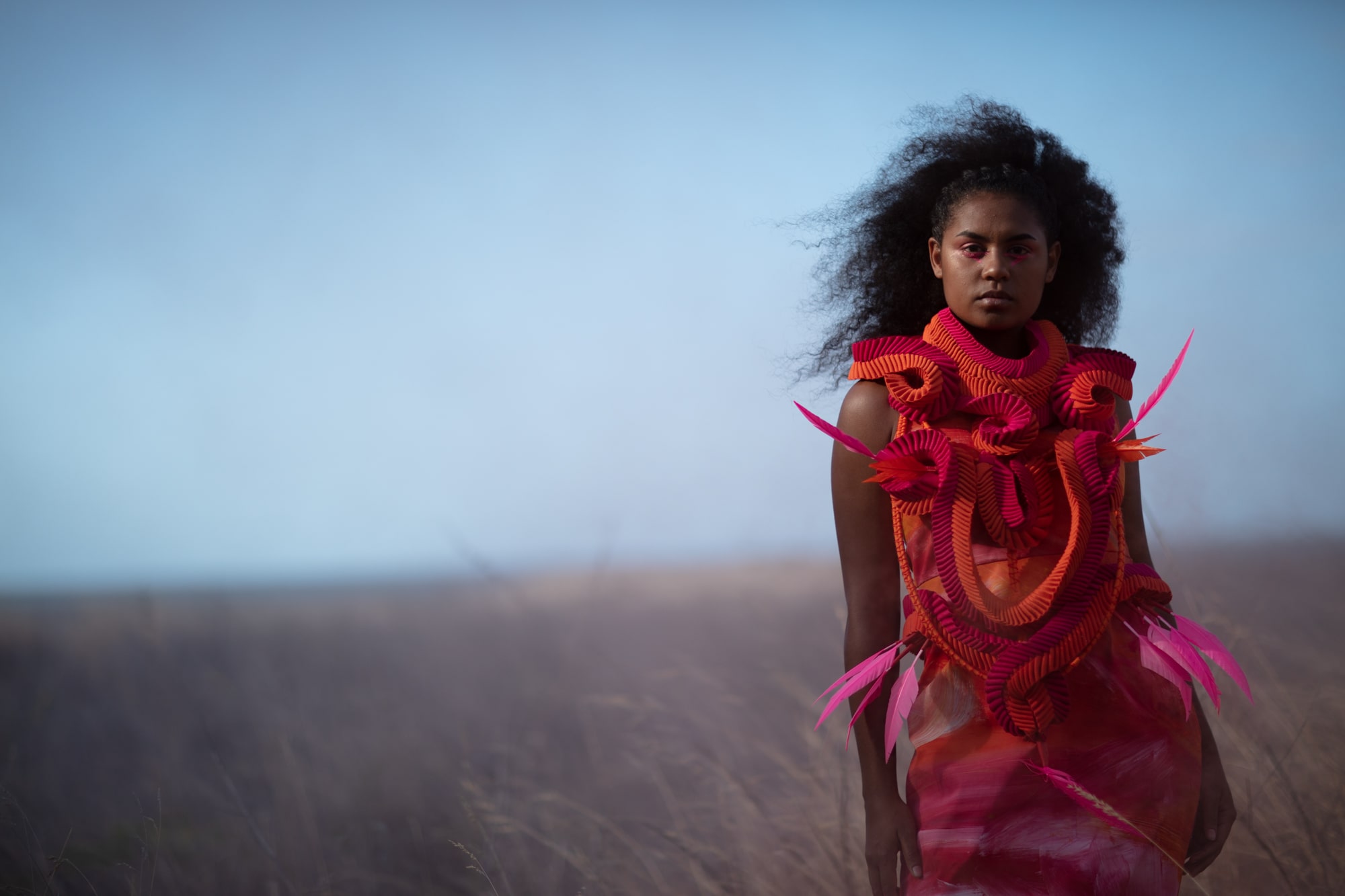 Grace Lillian Lee, Body Armour – A Weave of Reflection Pink and Orange, 2018. Photograph by Wade Lewis, courtesy of the artist.
Eureka! Scientific Australia
3 March 2022 - 30 June 2022
Science, technology and innovation increase our prosperity, expand our knowledge, and develop new solutions to address emerging global challenges. Across Australia, governments, businesses and researchers are working together, and with international partners such as France, to grow our capabilities.
This free exhibition at the Australian Embassy showcases exciting technology projects in Australia in three areas related to the environment and our universe:
development and commercialisation of low emissions technologies,
protecting the Great Barrier Reef, and
astronomy.

Coming soon
Destiny - The art of Destiny Deacon
5 May 2022 - 2 September 2022
The Department of Foreign Affairs and Trade respectfully advises Aboriginal and Torres Strait Islander people that this site includes images, works and names of deceased Indigenous people and may include images of artistic, cultural or intellectual property that may be of a sensitive nature. We have made efforts to ensure that restricted works are not reproduced. This website may contain terms that reflect the period in which the item was created and may be considered inappropriate today. These are a reflection of past practices only and do not reflect the attitudes of the Department of Foreign Affairs and Trade.
This focused Retrospective exhibition covers 30 year's of Destiny Deacon's career as a contemporary artist, for the first time to a French audience. Collaborating often with her late partner and long-time collaborator, Virginia Fraser, Deacon offers a nuanced, thoughtful, and at times intensely funny snapshot of contemporary Australian life. Working across media, this retrospective exhibition includes photography and video.
Early video works appear amongst the photographic prints, offering a unique insight into Deacon's darkly comical, idiosyncratic world view. By contrasting seemingly innocent childhood imagery with scenes taken from the darkest reaches of adulthood, Destiny Deacon transports people into an uncanny valley; a chaotic world where disgraced dollies play out sinister scenes for audience amusement. This presentation also features number of new works, revisits the world premiere of a two new series of work by both Deacon and Fraser.