Voting in the 2023 Referendum
On 14 October 2023, Australians will be asked to vote in a referendum to alter the Constitution.

The Australian Embassy in France will be an in-person voting centre and postal vote collection centre. All eligible Australians living in or visiting France will be able to vote.
To be eligible to vote, you must be enrolled. Please ensure that your enrolment details are up to date at the Australian Electoral Commission (AEC) website.

In-person voting will be held at the Embassy from 3 October to 13 October, weekdays (Mon – Fri), between 10am and 4pm.
See Google Maps for directions on how to get here.
You will need to show a current photo ID to pass through the building's security screening.

If you are overseas and are unable to vote in-person, you can apply for a postal vote. Postal vote packs will be sent to you from Australia, so you are encouraged to apply as early as possible.
You can mail your postal vote to the Embassy (4 rue Jean Rey, 75724, Paris Cedex 15) or you can drop it off yourself. Postal votes should arrive at the embassy no later than 4pm, Friday 13 October 2023. Alternatively, you can return your postal vote directly to the AEC in Australia. Postal votes must be received by the AEC no later than Friday 27 October 2023.

It is not compulsory to vote if you are not in Australia at the time of the referendum. If you will be overseas at the time and unable to vote, you can advise the AEC by completing and returning the Overseas Notification Form.
Additional information on the referendum and voting is available from the AEC website and Smartraveller.
Travelling to France
If you are travelling to France, check the Smartraveller.gov.au website.
Smartraveller has the latest, authoritative travel advice so you can be informed and prepared about overseas travel. Subscribe to receive travel advice updates - by simply supplying your name and email address – straight to your inbox.
Visit www.smartraveller.gov.au to subscribe or connect with Smartraveller on Facebook and Twitter.
You can find travel advice for our countries of accreditation here:
- Algeria
- Chad
English-speaking professionals in France
Driving in France
You may need your signature witnessed and a photo endorsed for a driving licence renewal forms. You can request this service at the Embassy. For more information, visit our Notarial Services page.
The Australian Embassy cannot renew driving licences. Please contact the relevant road authority in Australia for information regarding the necessary forms required to renew driving licences whilst residing overseas. For information on registration and licences, and a list of road authorities in each state, please visit click here.
Getting married or pacsed in France
Marriages are not performed at Australian Embassies or Missions. To be legally married, a marriage in France must take place at a townhall (Mairie). We invite you to make direct contact with your townhall to obtain their requirements.
For more information on marriages and PACS (civil partnership):
Consular Services
Consular services may be available to Australian citizens while overseas.
Australians requiring advice or assistance from the consular section may make an appointment to visit the Embassy during our opening hours:
09:00 to 12:00 and
14:00 to 16:00
Monday to Friday, excluding public holidays.
In case of an emergency after hours, please contact the 24-hour Consular Emergency Centre on:
+61 2 6261 3305 from overseas
1300 555 135 from within Australia
+61 421 269 080 for SMS
We recommend that Australian citizens wishing to request consular assistance familiarise themselves with the travel advice provided on the smartraveller.gov.au website and consult the Consular Services Charter.
Visas for travelling or living in France
The France-Visas website can help determine if you need a visa to enter the country. This includes for transits.
Check the French government website to check which forms you may need to complete before coming to France.
For further information please consult the website of the French Embassy in Australia.
Connecting with Australia
Returning to Australia
If you intend to return to Australia after living abroad, we recommend that you familiarise yourself with the relevant information below, including citizenship, visas, customs clearance and bringing pets and possessions back to Australia.
Note: An Australian citizen cannot enter Australia on a foreign passport. (A visa will not be issued to an Australian citizen in their foreign passport). Click here for information regarding Australian Passports.
Financial and social services in Australia
Others
Contact us
Australian Embassy
4 rue Jean Rey
75724 Paris Cedex 15
Tel: +33 (0) 1 40 59 33 00
E-mail :

[email protected]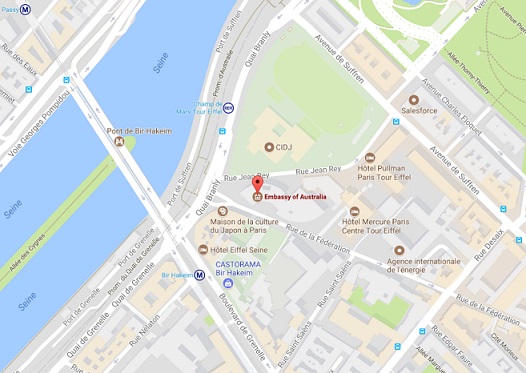 Metro Line 6 Station Bir-Hakeim
RER C Station Champ de Mars-Tour Eiffel
Privacy Act
Personal Information provided to the Department of Foreign Affairs and Trade (DFAT) is protected by law, including the Privacy Act 1988. We may collect, use and disclose your personal information, including to overseas recipients where we reasonably believe it is necessary, to provide you with consular assistance. Important information about the privacy of your personal information is contained in our Privacy Collection Statement, which you should read and understand. Copies of the Statement are available here or by requesting a copy from the Department.