Past exhibitions
The Department of Foreign Affairs and Trade respectfully advises Aboriginal and Torres Strait Islander people that this site includes images, works and names of deceased Indigenous people and may include images of artistic, cultural or intellectual property that may be of a sensitive nature. We have made efforts to ensure that restricted works are not reproduced. This website may contain terms that reflect the period in which the item was created and may be considered inappropriate today. These are a reflection of past practices only and do not reflect the attitudes of the Department of Foreign Affairs and Trade.
Arts Hub shop
4 April – 25 August 2023
The Arts Hub shop offers a selection of works available for sale from Aboriginal art centres associated with the exhibition Songlines – Tracking the Seven Sisters at the Musée du Quai Branly - Jacques Chirac.
The selection presents a panorama of Aboriginal desert painting which tell stories from the Seven Sisters Songline. It includes a wide variety of works, from small accessible canvases to large works, by both emerging and major established artists. All are sourced from Aboriginal art centres located along the Seven Sisters Songline through the Central and Western deserts of Australia.
This is an opportunity to acquire exceptional works with certificates of authenticity from the art centres, at fair prices in ethical and transparent conditions. At the same time these sales support Aboriginal artists and communities.
This initiative is organised by IDAIA in collaboration with the artists, art centres and Emilia Galatis Projects, the Australian Embassy in France, the National Museum of Australia and the Musée du Quai Branly – Jacques Chirac.

Songlines: Tracking the Seven Sisters is an international touring exhibition produced by the National Museum of Australia with the ongoing support of the traditional Aboriginal custodians and knowledge holders of this story.
Kulata Tjuta - Masterpieces from the Dr Pierre and Alexandre Vaysse Collection
4 April - 18 August2023
This exhibition brings together a selection of 22 major works from the Anangu Pitjantjatjara Yankunytjatjara Lands (APY) in the far northwest of South Australia, from the Dr Pierre and Alexandre Vaysse collection.
Extremely colourful, these contemporary creations are the result of the Kulata Tjuta project developed by the APY Art Centre Collective in the 2010s, which allowed the creation of major installations based on ancestral traditions, knowledge and skills. Specially designed to preserve the strength of the country and culture, these paintings perpetuate a thousand-year-old tradition handed down by the elders. This iteration of the Kulata Tjuta project was part of Tarnanthi at the Art Gallery of South Australia in 2017.
Today, more than 500 Anangu artists, men and women from three generations, create and market their work through the seven art centres in APY Country.
In APY communities, art centres are the only source of non-government income. These art centres are home to some of the best-known and most collectable Indigenous artists in the country, as well as a host of young and emerging artists.
Songlines. Art Centres from the Australian Desert
4 April – 11 July 2023
In collaboration with the National Museum of Australia, the Australian Embassy in Paris presents 'Songlines. Art Centres from the Australian Desert', which features the recreation of a desert art centre studio. This is a unique opportunity to experience the workings of an art centre, gain insight into their important economic and cultural role, and to discover works for sale by artists from the same communities presented in the exhibition Songlines.
For thousands of years, the history of the First Australians has been maintained by the Elders through stories that are told in painting, ceremony and song. Passed down from generation to generation, these Songlines are more than legendary tales, they are true knowledge corridors, paths traced over the millennia that contain the fundamental rules of social organisation, and ecological, astronomical or geographical knowledge essential to survival. In parallel to the exhibition at the Musée du quai Branly - Jacques Chirac, "Songlines. Art Centers of the Australian Desert" offers visitors the opportunity to experience the place where Anangu artists gather and create.
Maree Clarke - Ritual and Ceremony
10 October 2022 to 17 March 2023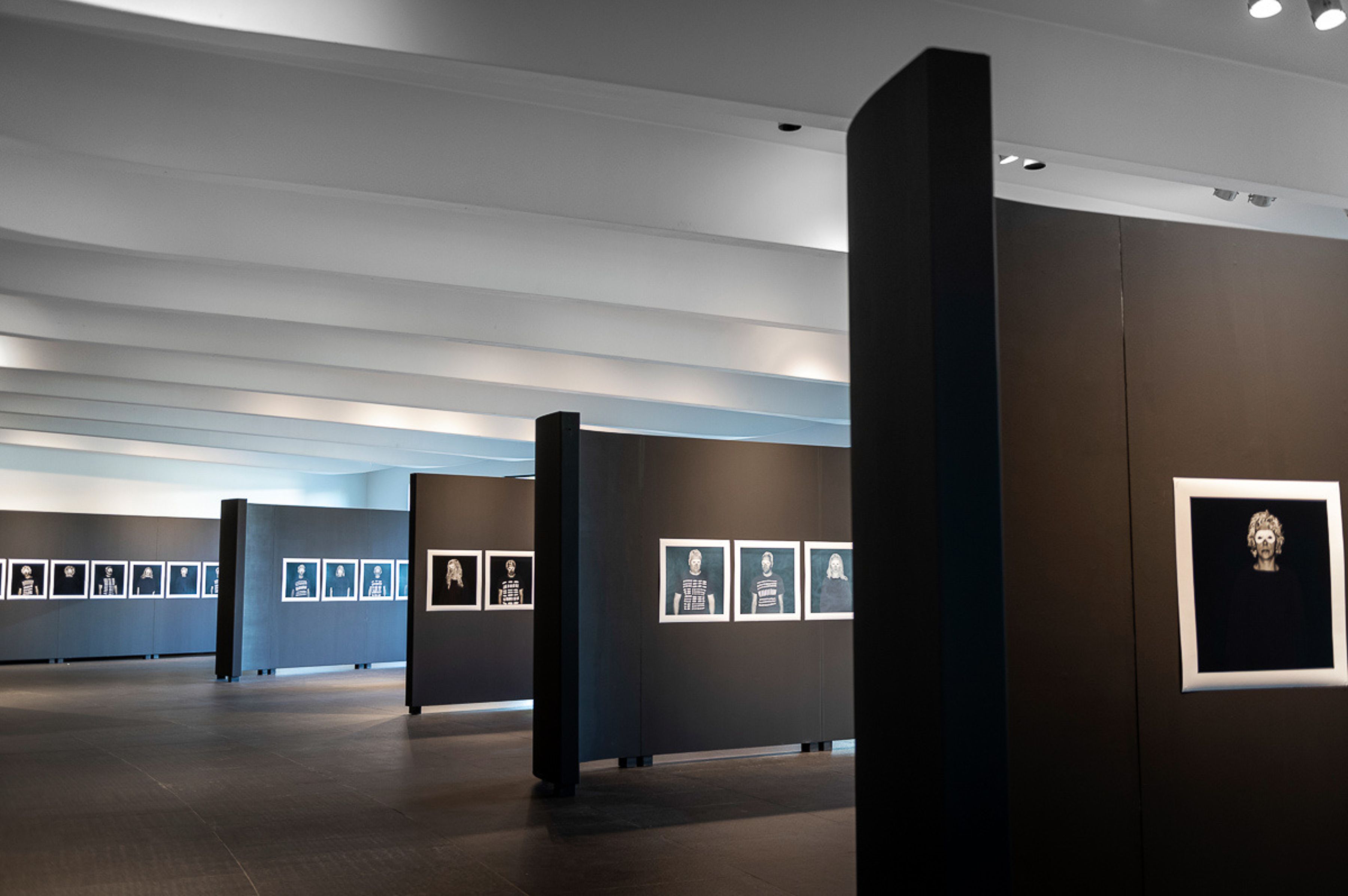 'The work represents the mourning practices of Aboriginal people along the Murray–Darling rivers. It talks about loss of land, language and cultural practices. All eighty-four people had the opportunity to share their stories of loss, sorrow and mourning.' – MAREE CLARKE
Maree Clarke has made Melbourne, Australia, her home for many years, contributing immensely to the local art community. She was born in Swan Hill in the north-west of Victoria and is connected to the traditional lands of the Mutti Mutti, Wamba Wamba, Yorta Yorta and Boonwurrung peoples.
Much of Clarke's work is made from and about memory, whether a personal memory, like that of sleeping as a child in a suitcase on the banks of the Murrumbidgee River or of growing up and visiting her nan's house, or cultural memory inscribed in the landscape, written on Country. Ancestral memories echo across time: they are found in Ancestral objects, and in new renditions of ancient crafts. These memories forge and reinforce the connections that are at the heart of Maree Clarke's work.
Throughout her career Maree Clarke has developed a deep and contemplative, multidisciplinary practice that continually reclaims and celebrates Aboriginal customary ritual, language and art. This seminal body of work, Ritual and Ceremony, 2012, comprises eighty-four portraits of named Aboriginal men and women from Victoria. Clarke uses this photographic series to speak frankly about the physical presence of Aboriginal people in the South East, naming individuals as an antidote to the absence of Aboriginal makers' names within historical collections.
Clarke challenges visitors to consider the legacy of erasure that has been perpetuated by collecting institutions. She uses white ochre painted on the faces and hair of thirty-eight women, and on the eyes and T-shirts of forty-six men, to represent widows' caps and ceremonial body paint, as well as scarification markings, to honour all that has been lost.
Alongside the eighty-four photographs that comprise Ritual and Ceremony is a selection of kopi (skull caps) taken from the portrait participants. Kopi were traditionally made from gypsum (a soft calcium chalk like substance) and ochre and would be worn by women on their heads for substantial lengths of time as an integral part of mourning rites, before being placed on the grave of the deceased. Clarke extends on ancient mourning ceremonies, using her art to simultaneously revive and reflect on the loss of contemporary Aboriginal ritual mourning practices throughout Victoria and the South East.
DESTINY - The art of Destiny Deacon
From 5 May 2022 - 2 September 2022
Monday to Friday from 9am to 5pm – 4 rue Jean Rey, 75015 Paris
Free entrance upon presentation of a valid ID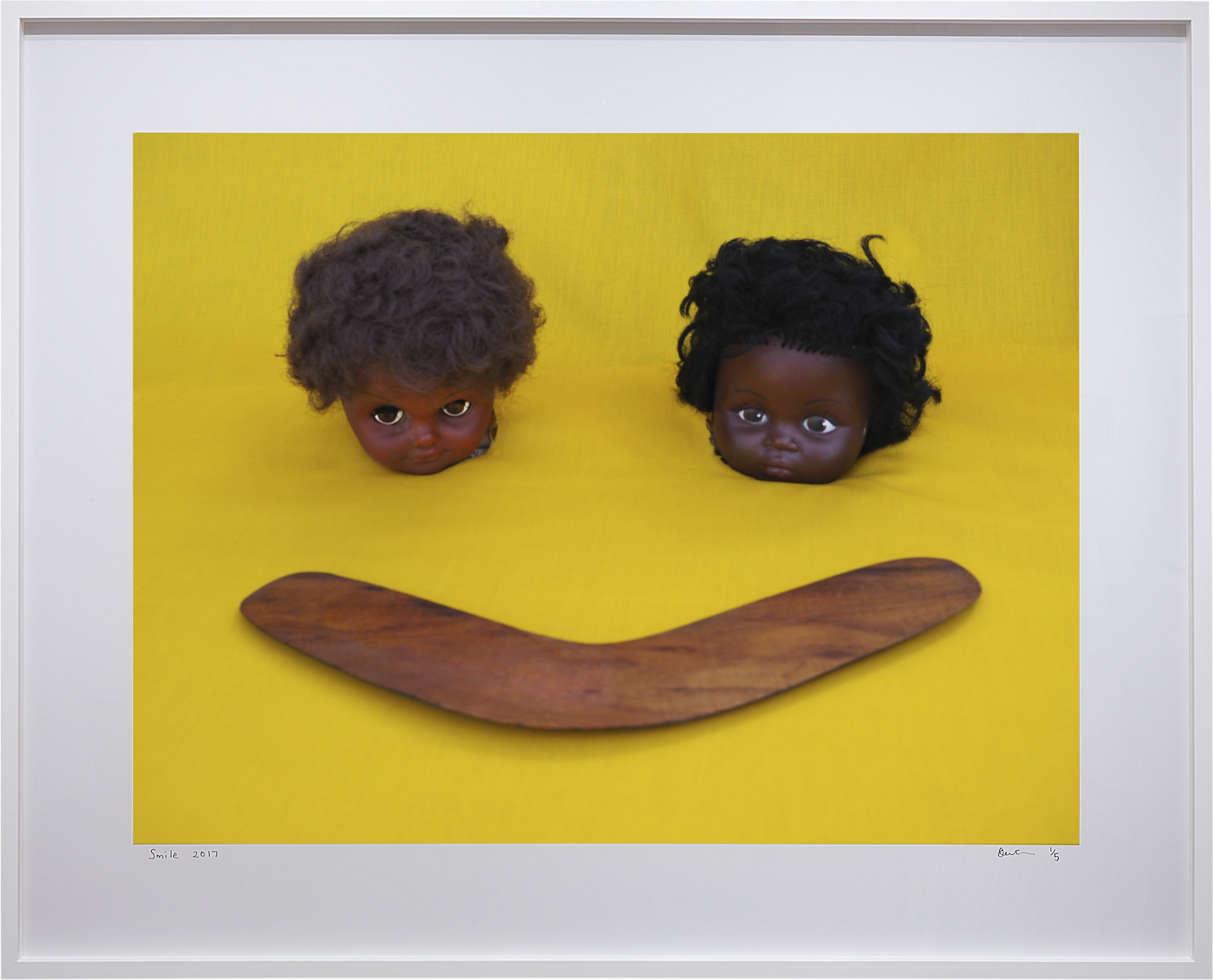 This focused Retrospective exhibition covers 30 year's of Destiny Deacon's career as a contemporary artist, for the first time to a French audience. Collaborating often with her late partner and long-time collaborator, Virginia Fraser, Deacon offers a nuanced, thoughtful, and at times intensely funny snapshot of contemporary Australian life. Working across media, this retrospective exhibition includes photography, video, sculpture and installation.
Early video works appear amongst the photographic prints, offering a unique insight into Deacon's darkly comical, idiosyncratic world view. By contrasting seemingly innocent childhood imagery with scenes taken from the darkest reaches of adulthood, Destiny Deacon transports people into an uncanny valley; a chaotic world where disgraced dollies play out sinister scenes for audience amusement. This presentation also features number of new works, revisits the world premiere of a two new series of work by both Deacon and Fraser.
EUREKA! - Scientific Australia
From 3 March 2022 - 30 June 2022
Monday to Friday from 9am to 5pm – 4 rue Jean Rey, 75015 Paris
Free entrance upon presentation of a valid ID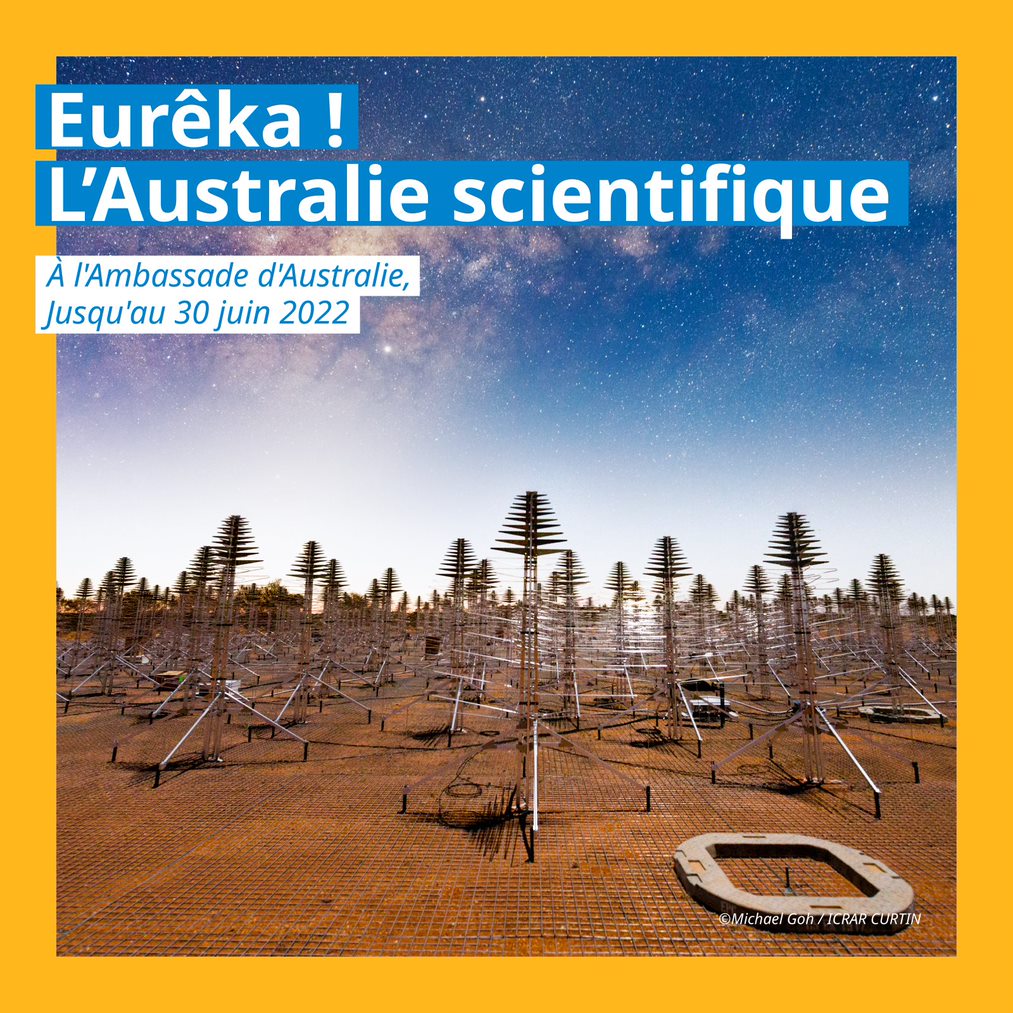 Science, technology and innovation increase our prosperity, expand our knowledge, and develop new solutions to address emerging global challenges. Across Australia, governments, businesses and researchers are working together, and with international partners such as France, to grow our capabilities.
This free exhibition at the Australian Embassy showcases exciting technology projects in Australia in three areas related to the environment and our universe:
development and commercialisation of low emissions technologies,
protecting the Great Barrier Reef, and
astronomy.
PIINPI - Contemporary Australian Indigenous Fashion
From 31 January 2022 - 22 April 2022
Monday to Friday from 9am to 5pm – 4 rue Jean Rey, 75015 Paris
Free entrance upon presentation of a valid ID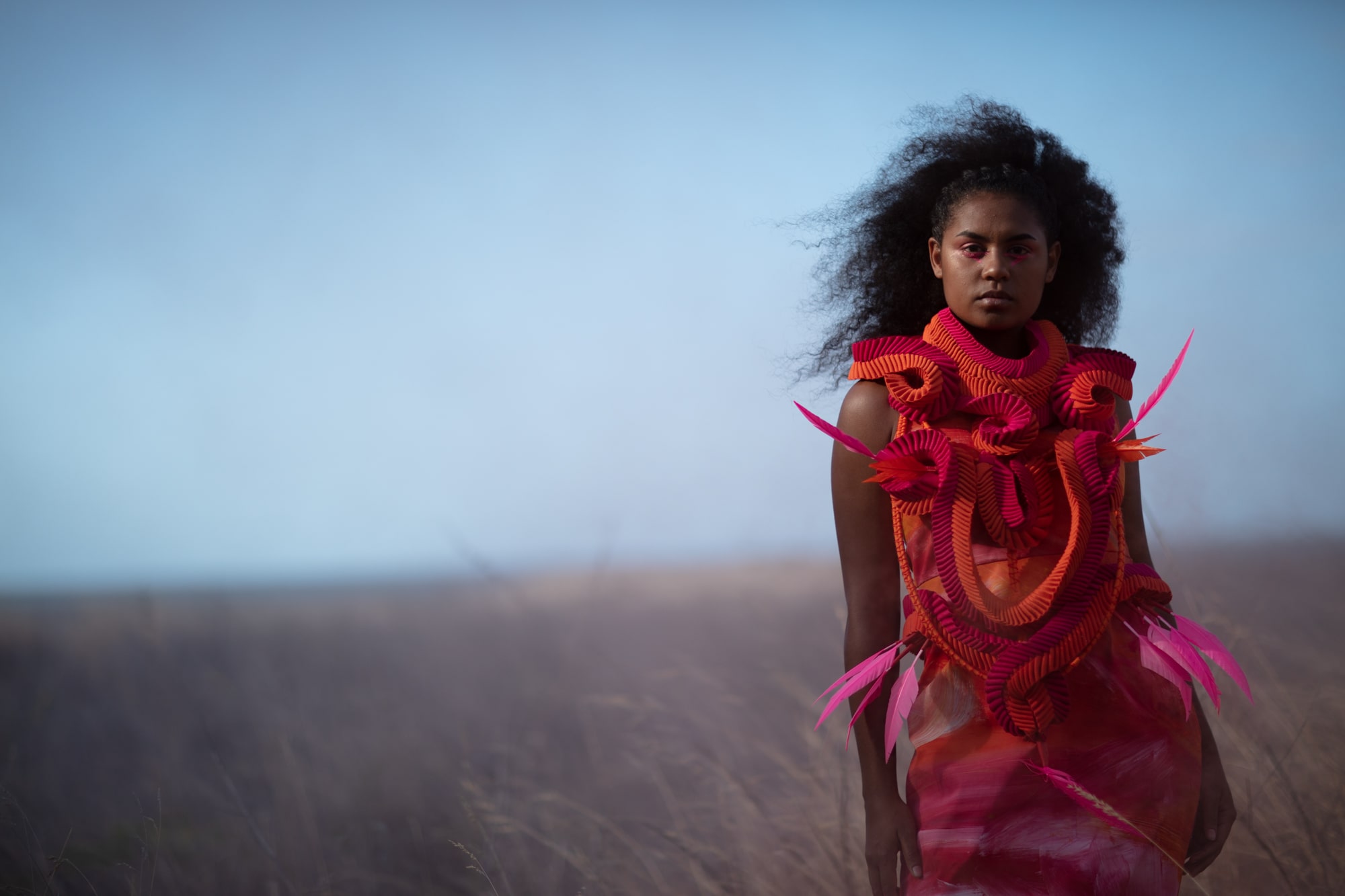 Created by the Bendigo Art Gallery, the exhibition Piinpi: Contemporary Australian Indigenous Fashion will shine a light on Australia's leading First Nations creatives, and a design movement that is fast becoming a national fashion phenomenon.
Featuring the work of Indigenous artists and designers from the urban centres to remote communities, Piinpi will highlight the power and diversity of the rapidly growing Indigenous fashion and textile industry.
What is Piinpi?
Piinpi is an expression that Kanichi Thampanyu (First Nations people from the East Cape York Peninsula) use to describe changes in the landscape across time and space. For First Nations people across Australia, knowledge of the land and seasons is culturally important. While the number of seasons can vary across First Nations groups around Australia, the exhibition is themed around four widely recognised seasons: Season of Fire and Burn, Season of Rain, Season of Flowers, and Season of Cool Winds.
'Piinpi' is coming to Paris as part of Australia now France 2021-2022, for display at the Australian Embassy in France and at the Observatory in the BHV-Marais exhibition space as part of the Australian takeover of the store (29 January – 27 February 2022).
Virtual tour
Explore the exhibition Piinpi : Contemporary Australian Indigenous Fashion remotely with our virtual tour, available here: PIINPI.
BLEACHED GOTHIC - Petrina Hicks
From 24 June to 24 September 2021
Monday to Friday from 9am to 5pm – 4 rue Jean Rey, 75015 Paris
Free entrance upon presentation of a valid ID
Photo : Shenae and Jade 2005 from the Untitled series 2005, pigment inkjet print
Petrina Hicks: Bleached Gothic, presented by the National Gallery of Victoria, is the first monographic exhibition by Australian photographer Petrina Hicks in Europe, featuring works created between 2003 and 2019. Hicks's shimmering, enigmatic and surreal compositions convey the inherent ambiguity and complexity of the female experience. At a time when issues of gender and representation are more culturally relevant than ever before, Hicks's photographs interrogate the cultural and visual representation of women and children in contemporary society and throughout history.
LONGITUDE/LATITUDE/SOLITUDE - Andrew Vukosav
From 24 June to 24 September 2021
Monday to Friday from 9am to 5pm – 4 rue Jean Rey, 75015 Paris
Free entrance upon presentation of a valid ID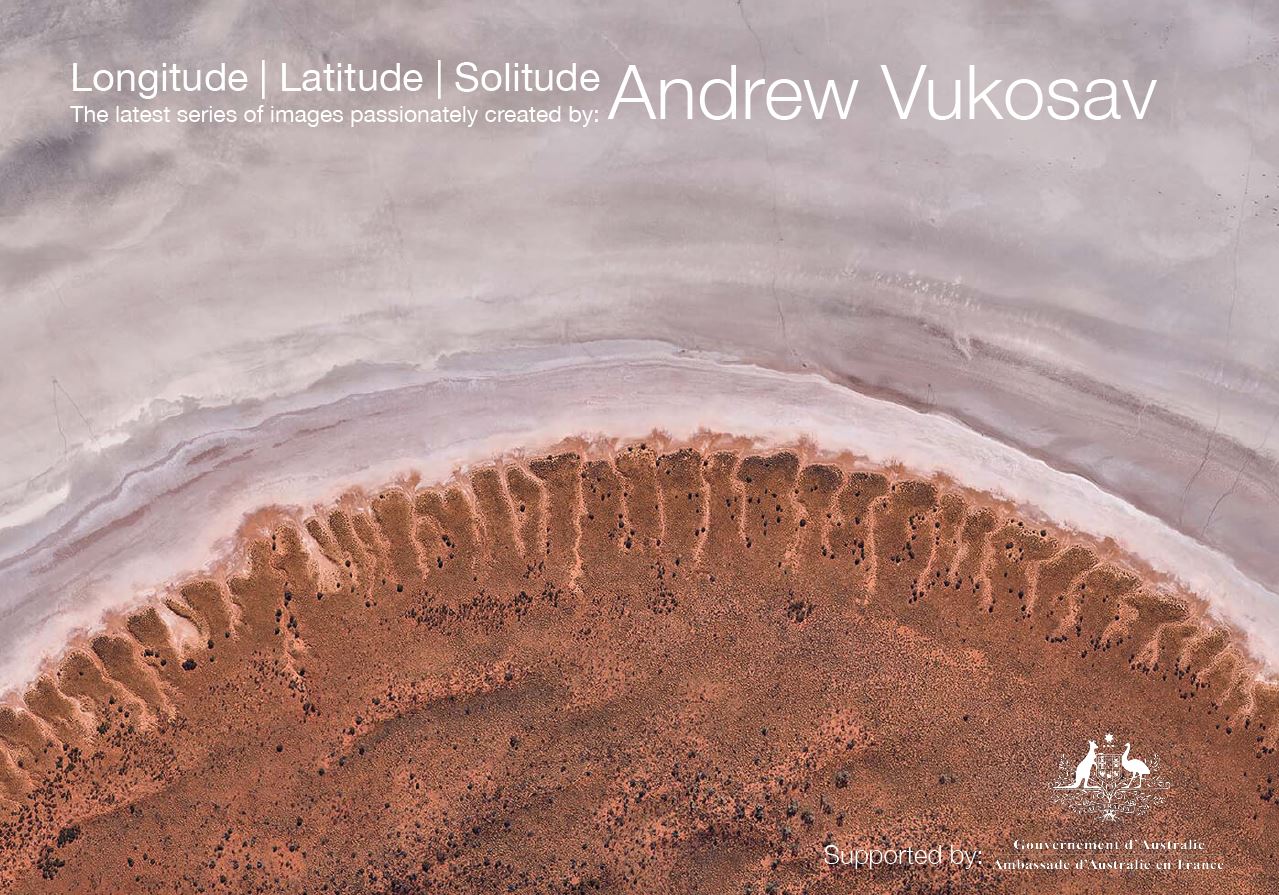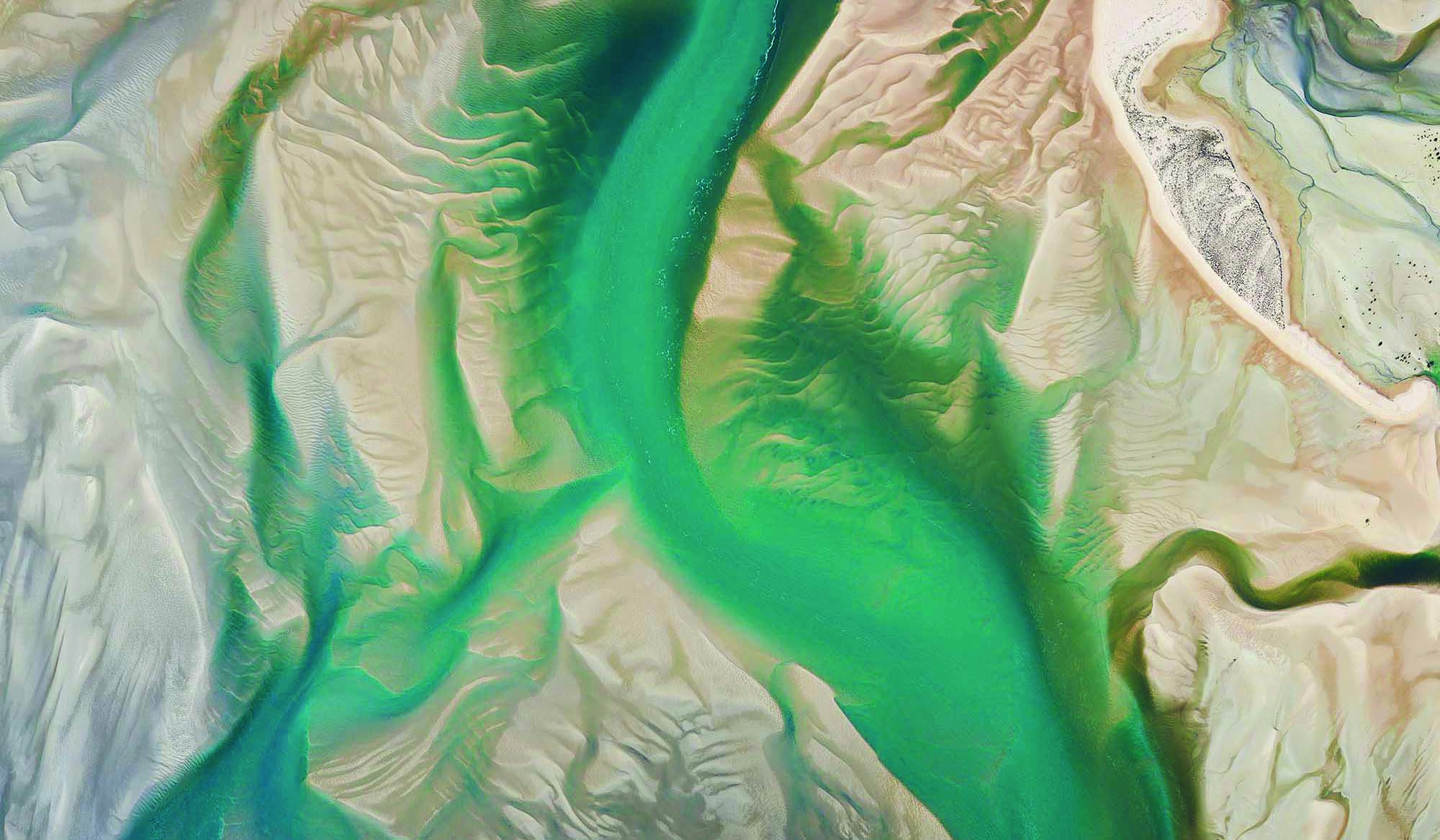 This exhibition features an impressive series of aerial photographs of the Australian landscape by the photographer and pilot Andrew Vukosav. The imagescapture the immense diversity, beauty and surprising strangeness of Australia seen from the air. Every photograph is remarkable in its elaborate detail and beautiful patterns of vegetation, rock formations, flowing water and animal tracks. With this project, Vukosav sought a different photographic experience than simply holding a camera in the cockpit windows.
JARRACHARRA: dry season winds
From 4 October to 10January 2020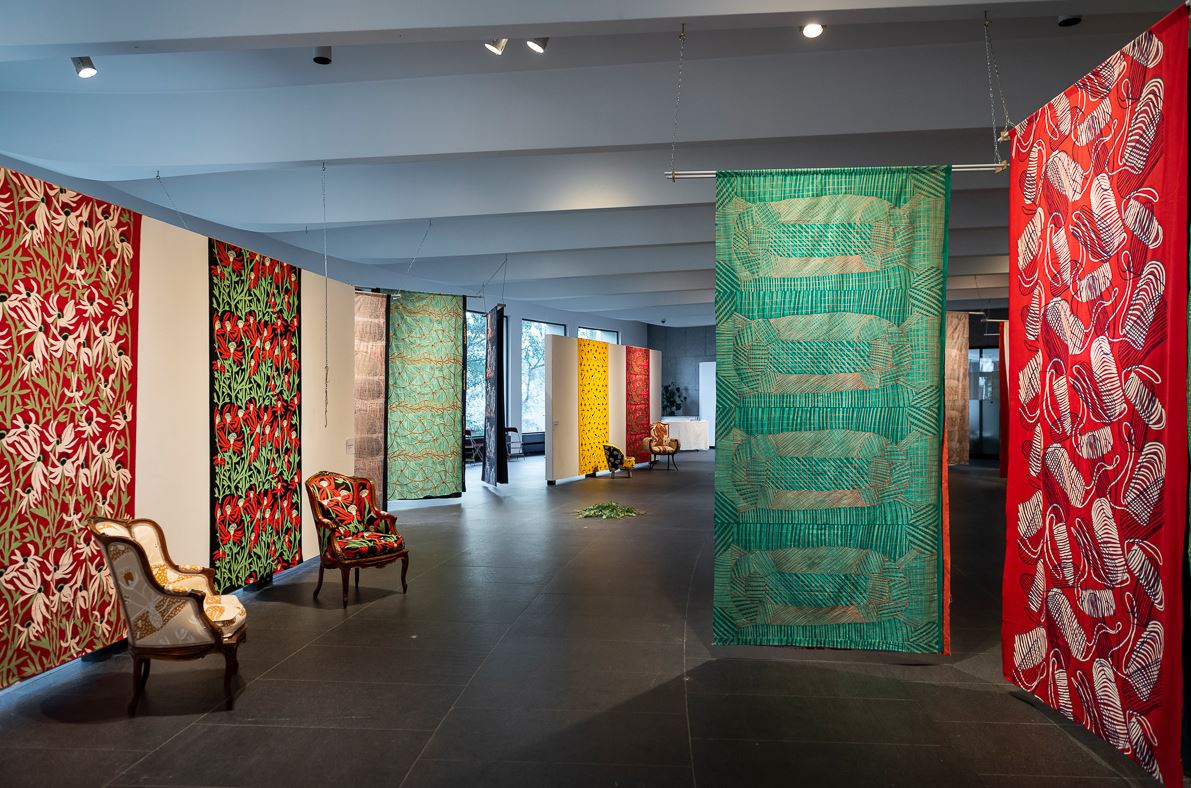 Jarracharra: dry season wind showcases a powerful collection of Aboriginal women's textile art from the Bábbarra Women's Centre in Arnhem Land (Northern Territoriy, Australia), one of the most remote art centres in the world. The exhibition features women depicting ancient narratives using contemporary mediums. Walking through the exhibition, you feel like you are travelling across the ancestral lands of Northern Australia.
NGALA WONGGA - Cultural significance of languages in the Goldfields
From 30 January to 6 September 2019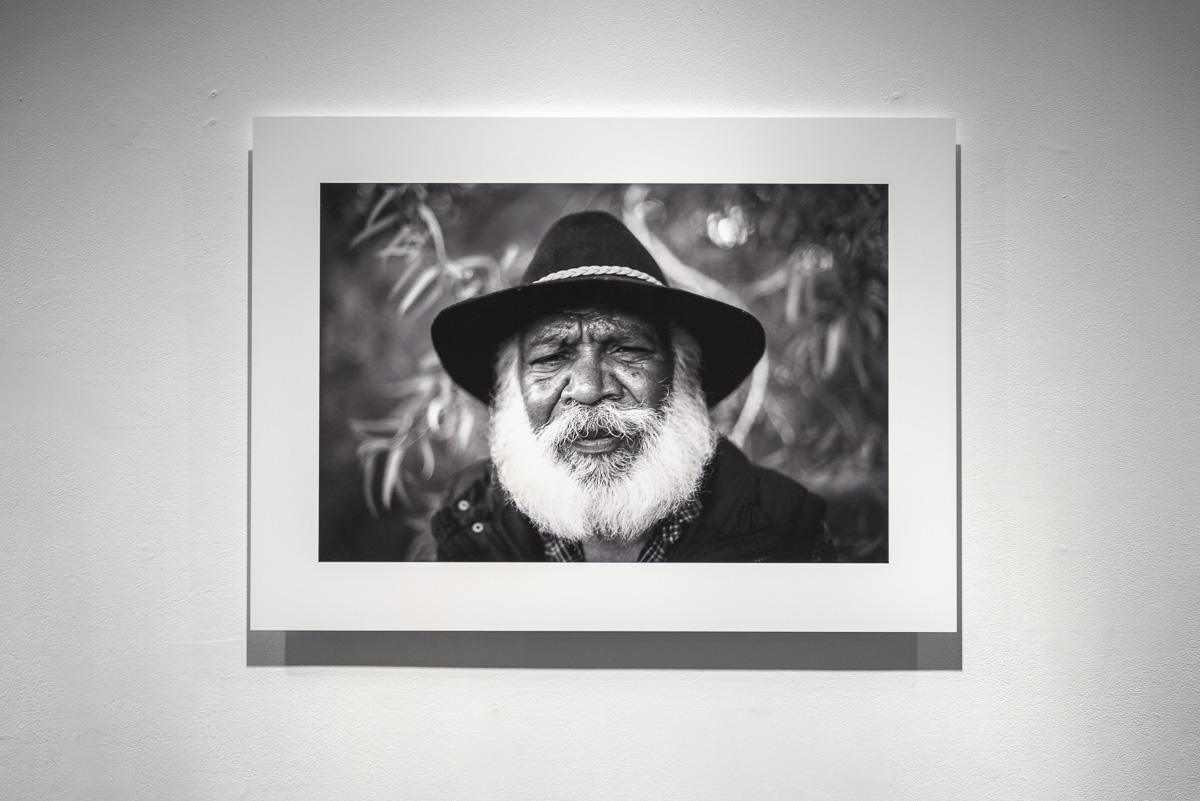 Photos: Andrew McLeish
W A L L P O W E R - Contemporary Australian Photography
From 18 June to 12 November 2018

WALL POWER: Contemporary Australian Photography features the work of twenty-two leading Australian photographers, each exploring the myths and legends surrounding Australia's unique light, landscape and history. The exhibition includes multiple seminal works by Australia's best-known contemporary photographers including Tracey Moffatt, Bill Henson and Christian Thompson.
The exhibition covers a broad spectrum of practical and conceptual approaches to photography, all casting light on the Australian national identity, rich in complexities and conflicts. At the core of WALL POWER lies the photographic image and the immediacy and power of the medium.
William Robinson's exhibition 'Genesis'
From 29 January to 20 April 2018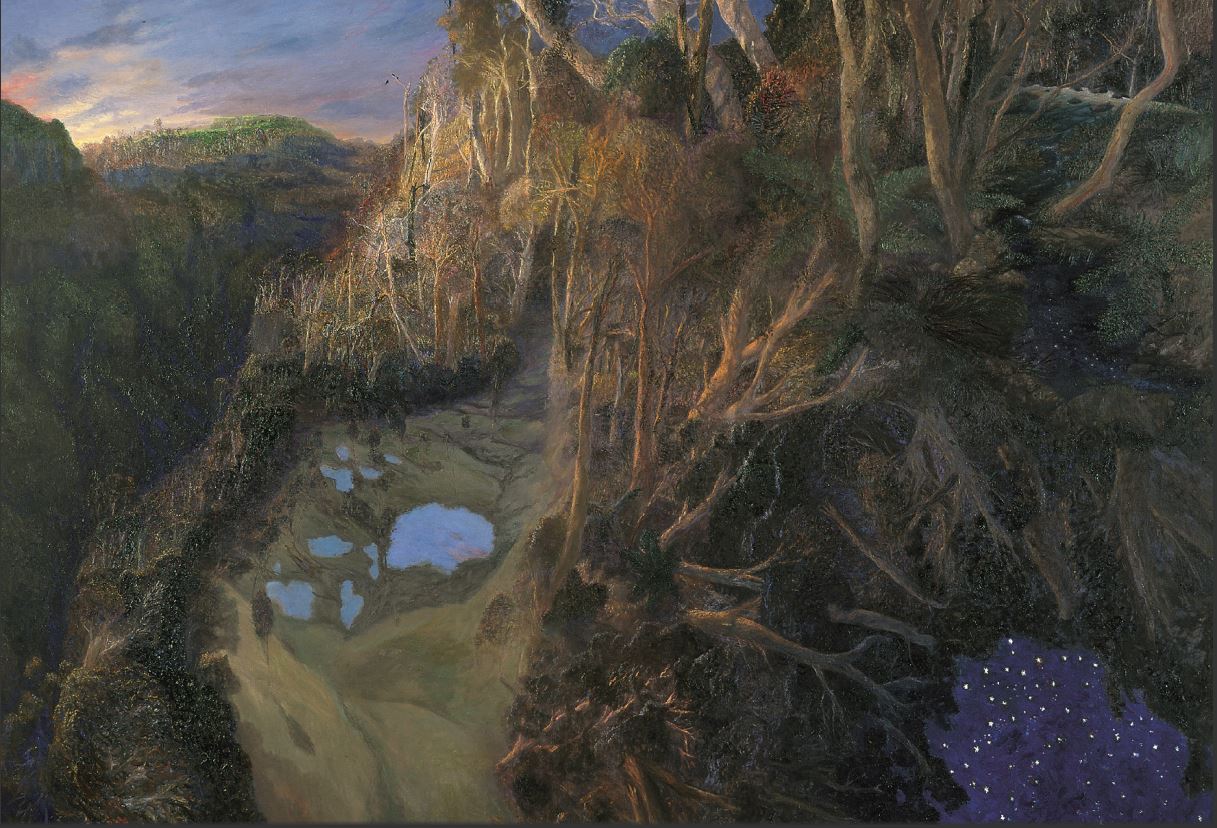 Robinson is recognised as one of Australia's most important contemporary landscape painters, celebrated in particular for his original and powerful approaches to depicting the Australian environment through a multidimensional viewpoint. For over five decades he has produced works of great originality and vision that have informed a new vernacular of the Australian landscape.
Christian Thompson's exhibition "Hear the Rattles"
January 2017

Photo : Simon Patching
Dr CHRISTIAN THOMPSON is an Australian born, London based contemporary artist whose work explores notions of identity, cultural hybridity & history. In much of Christian Thompson's work he engages with the process of auto ethnography. Merging a nuanced dream world and his autobiography, he draws out images that connect his own personal experience to wider social, political, cultural meanings and understandings